Shower mixer, thermostatic
Product code: BCH_04BT
---
Finish: chrome
Mixer type: two-handle, thermostatic
Installation method: wall-mounted
---
The mixer is equipped with non-return valves so that the mixed water does not flow back into the installation
38° temperature lock
Dedicated cleaning agent, safe for cleaned surfaces
Thermostatic cartridge for precise water temperature setting
The mixer body is made of the highest quality brass
See more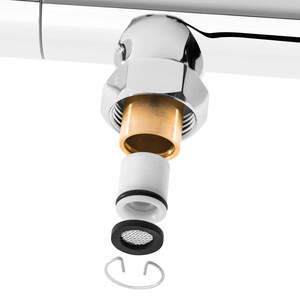 The mixer is equipped with non-return valves so that the mixed water does not flow back into the installation
Backflow valves guarantee the correct operation of the fittings, and in thermostatic taps they also prevent water mixing in the pipes.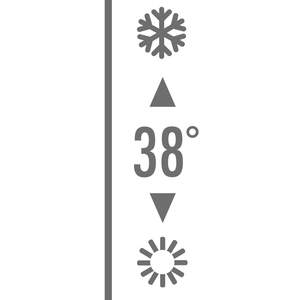 Thermostatic cartridge for precise water temperature setting
The thermostatic mixer ensures an easy and precise setting of a constant, pleasant water temperature. Using it is extremely simple. Just set the knob to the desired water temperature. A special lock protects against accidental setting of a temperature higher than a comfortable 38˚C and, as a consequence, protects against burns. This solution will work especially where the youngest or seniors use the spray. It is therefore comfortable and safe.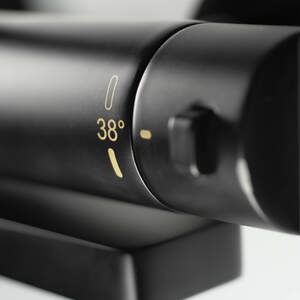 38˚C temperature lock
The mixer has a 38˚C lock, which prevents accidentally increasing temperature, providing a maximum comfortable use. In addition, in the Cascada model you can set the desired value in the 34 a 42˚C range, with 1˚C accuracy. The thermostat guarantees maintaining stable water temperature, even when the installation has pressure jumps.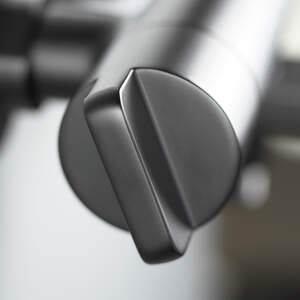 Ergonomic knobs
Design can go hand in hand with comfort! The knobs of our thermostatic mixers combine beauty with ergonomics, allowing for comfortable and precise head control.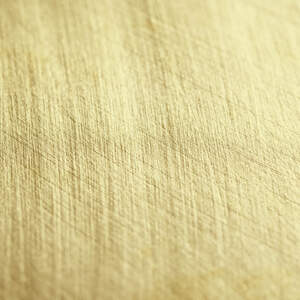 Top grade brass
The mixers are made from top-grade brass. This material is extremely durable and corrosion-resistant, yet easy to form.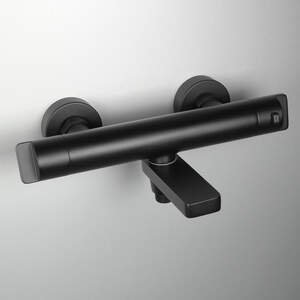 Combination of functionality and aesthetics
On the one hand, we have focused on advanced technology, economy and durability, while on the other hand, on good design. The faucets designed by Katarzyna Łogwinienko have a number of functions that enhance the comfort of bathing, making it an uninhibited relaxation.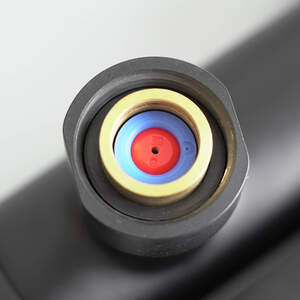 Reinforced check valves compensate for pressure surges
Check valves prevent water from retreating to the installation. Additional strengthening even more effectively protects the cartridge and the entire tap from damage.
Mixer
Finish
chrome
Mixer type
two-handle

,

thermostatic
Installation method
wall-mounted
Total mixer height [mm]
96
Flow class [l/min]
S - 15.1-19.8 l/min
Acoustic group [dB]
II (20 < x ≤ 30)
Check valves
yes
Mixer cartridge
Temperature lock
yes
| File type | File name | Extension | Download |
| --- | --- | --- | --- |
| Technical drawing | BCH_X4BT.PDF | PDF | Download |
| Instruction | BCH X1BT_BCH X4BT_manual.pdf | pdf | Download |
| Declaration of performance | BTERM/2020 | pdf | Download |
| Hygienic Certificate | Atest-PZH-Baterie.pdf | pdf | Download |
| 3D model | BCH_X4BT.3DS | 3DS | Download |
| 3D model | BCH_X4BT.dxf | dxf | Download |
| 3D model | BCH_X4BT.obj | obj | Download |
| Warranty card | | pdf | Download |